Introduction
INDIGO Sky is a free Raspbian based image customized for running INDIGO easily and seamlessly on a Raspberry Pi.
The image works with Raspberry Pi generations
2 Mod. B (requires an external WiFi USB dongle when operated in WiFi mode),
3 Mod. A+,
3 Mod. B,
3 Mod. B+.
4 Mod. B.
Download the image 2019-08-07-indigosky.img.zip, unpack it, copy it to SD card following the instructions at Raspberry Pi site and boot from it.
INDIGO Sky will automatically expand the file system to the size of the SD card, start INDIGO and provide a WiFi access point for initial configuration of INDIGO Sky with the following credentials:
SSID: indigosky
password: indigosky
It can be configured via INDIGO Control Panel (avalilable on our Downloads page). In this case it should automatically detect and connect to INDIGO Sky.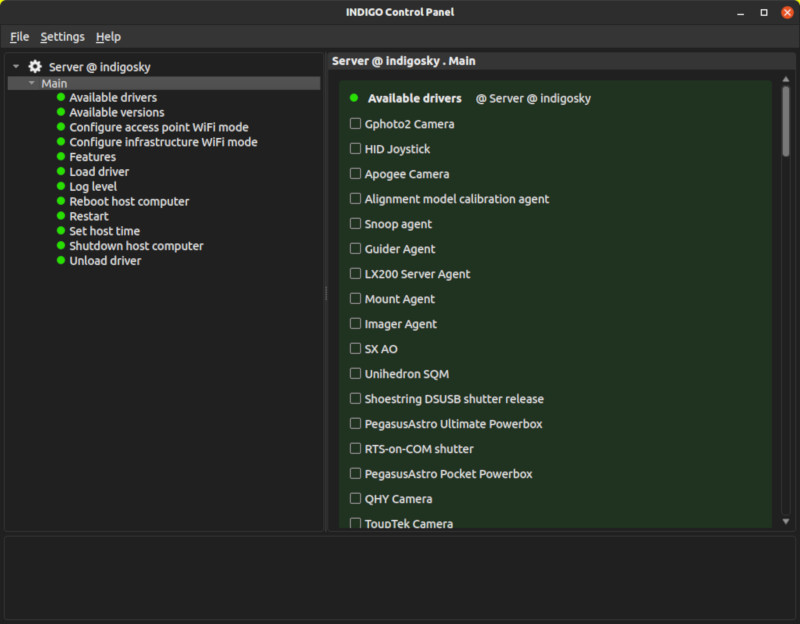 It can be also configured via the web GUI running at http://indigosky.local:7624. However this URL may not work on Windows, in this case please use http://192.168.235.1:7624. If the device is connected via Ethernet cable to your home network, you must use the IP address assigned by your router and the same port as above to access the web GUI.
NOTE for Microsoft Edge users: Some people reported reconnects every 30s when using Microsoft Edge browser. The issue is in the websockets implementation in Edge, and there is nothing we can do about that. The only solution is to use another browser like Chromium, Chrome, Safari, Firefox etc.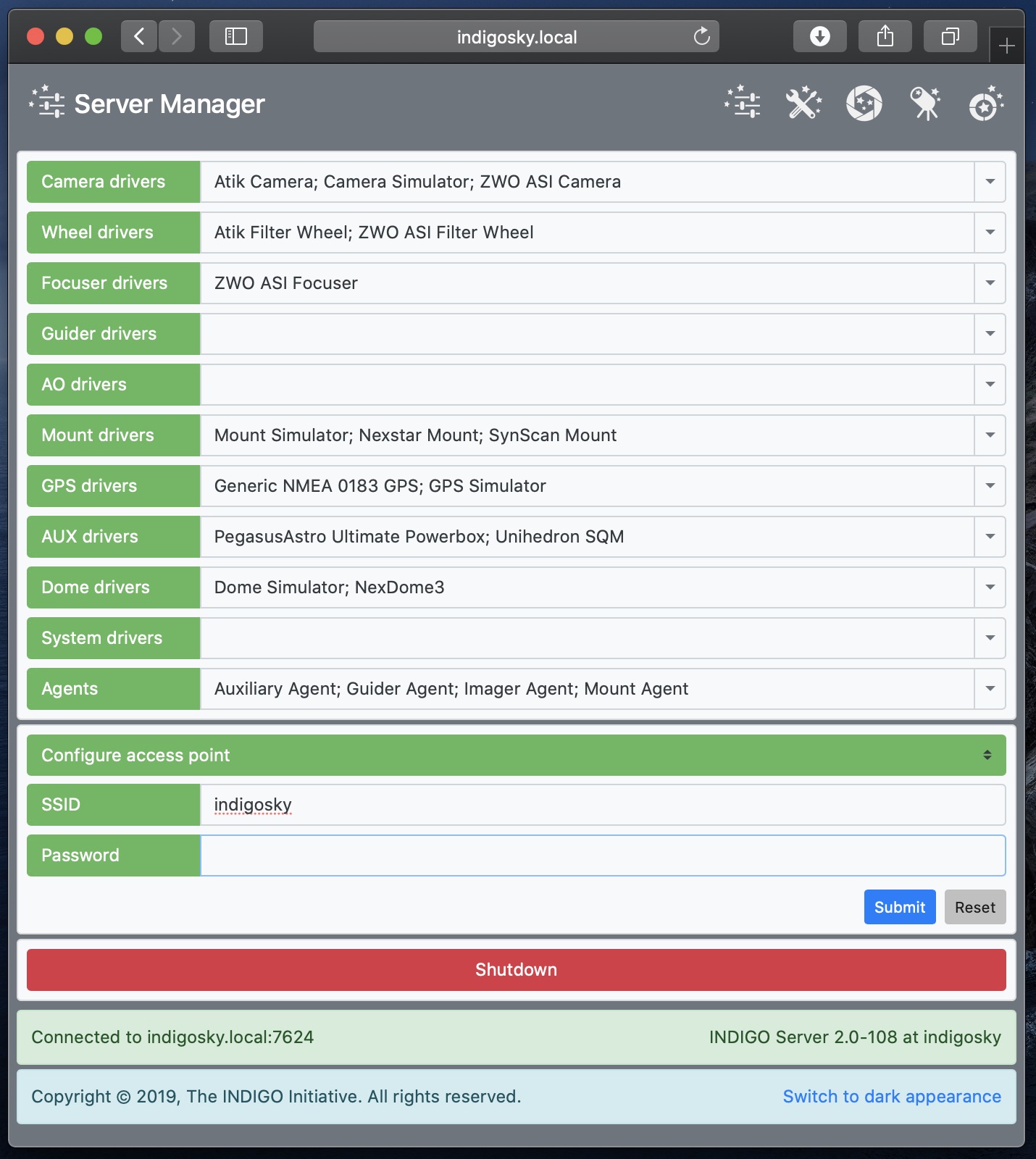 Change Password or SSID
It is strongly recommended to change the password. Open your browser and visit web GUI, click in the upper right corner (symbol open-end wrench & screwdriver) to open the INDIGO control panel.

Click on "Configure access point WiFi mode" and enter a new SSID and password. Then click on the "Submit" button. If the operation cannot be committed, e.g. due to a too short password, you should see an alert. In this case start over and if everything is fine, click then on "Reboot host computer" to reboot your Raspberry with the new WiFi configuration.
Connect INDIGO Sky to an Infrastructure Access Point
INDIGO Sky can also be configured for connecting to an infrastructure access point. The credentials can be entered in "Configure infrastructure WiFi mode"

Once done, click on the "Submit" button and then reboot INDIGO Sky. If you entered values incorrectly and INDIGO Sky cannot connect to the infrastructure access point, then connect via ethernet cable to INDIGO Sky and update the credentials.
Upgrade or downgrade INDIGO
INDIGO Sky allows to downgrade or upgrade INDIGO versions easily.
Whenever INDIGO Sky is started, the Internet connection is checked and new update package index files are fetched from the INDIGO package server.
A working Internet connection is also required for upgrading or downgrading INDIGO package version. If you want to upgrade or downgrade to a certain version, click on the chosen INDIGO version, e.g. 2.0-79. Wait until INDIGO Sky downloads and installs the package. If installation is successful, the INDIGO Sky will reboot afterwards automatically.

Timezone and Date
INDIGO Sky timezone is UTC. This timezone is suitable for precise astronomical calculations and representations of timestamps in FITS data.
If INDIGO Sky is started and no Internet connection is available, the previously saved date and time is used prevent the clock from being reset. That won't advance time while the device is off, so it will lag behind. To overcome this problem, the time and date of INDIGO client running in webbrowser is used as reference and set on INDIGO Sky when connected. If Internet connection is available, then the time and date information is received from Internet time servers. The time and date of INDIGO client is still used as the reference for INDIGO Sky.
Remote console via SSH
INDIGO Sky has SSH server enabled by default and can be accessed with the following credentials:
username: indigo
password: indigo
NOTE: Windows users need to install SSH client like PuTTY